Haunted Restaurants
Come and dine in some "spirited" places! Some of these places were not originally restaurants but have been turned into restaurants after having been private homes or public buildings.
Casey Moore's Oyster House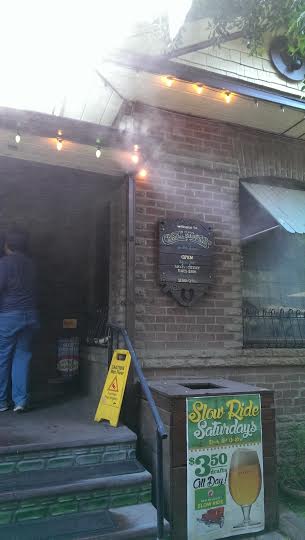 This restaurant, located in the historic Maple/Ash neighborhood of Tempe close to Arizona State University, was once a private house belonging to William Moeur and his wife (Mullaly and Ohlde 147-148). William Moeur's brother, Benjamin Moeur, was one of Arizona's governors. William Moeur was a member of Tempe's first school board ("W.A. Moeur House (Casey Moore's)"). The house was built for the Moeurs in 1910, just about two years before Arizona became a state. After the Moeurs died, it was used for various other purposes, including a boarding house and (according to rumor) a brothel. There have been reports of different spirits seen in the house, including a man and woman dancing (who may be the Moeurs). However, many of the hauntings have been attributed to a young woman named Sarah who was murdered in one of the upstairs rooms in 1966. Apparently, she was strangled by a man who was angry that she did not return his affections. She has been known to throw things (Mullaly and Ohlde 148, 150).
I've lived in Tempe all my life, and I've heard different versions of the story of Sarah's death. In some of them, she was a "lady of the evening" whose client fell in love with her and was enraged when she told him that their relationship was only business. I can't remember now where I heard that version of the story. In other versions, she was simply a college student living at the boarding house. In all versions of the story, she was murdered by a man in a crime of passion. I've never seen anyone give "Sarah" a last name, and I haven't seen any newspaper accounts of the original murder, so how much of the story is fact and how much is urban legend is uncertain. However, the hauntings are referenced on Casey Moore's website, and a number of people insist that strange things happen there.
Fans of Jimmy Eat World may also recognize the location of the restaurant (at the corner of Ninth and Ash) for its reference in the song "If You Don't, Don't":
"You know I'm thinkin',
drivin' 405 past midnight.
Don't you know that I miss you?
Ninth and Ash on a Tuesday night.
I would write to you from Museum Mile,
a toast to you, your whisper, your smile.
Up the stairs at Weatherford, a ghost each place I hide."
Jimmy Eat World started as a local band, and the restaurant had an open mic night on Tuesdays ("Song: If You Don't, Don't by Jimmy Eat World").
I've eaten at Casey Moore's many times and have never seen anything unusual, although the hauntings seem to center around the upstairs rooms, which are not open to the general public. The downstairs rooms are atmospheric in a pub style with stained glass windows and old-fashioned furnishings. The fish and chips are great, and I love the zucchini and mushrooms, too. If you come before 5pm, you can bring your dog to eat on the patio with you.